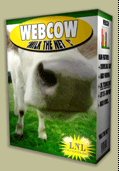 nonags rated webcow 5 (of 6) in it's first public beta!




webcow is a shellcity favorite. check the other favorites out there.




webcow on webattack. 4 (of 5) means very good.








Un très bon logiciel !
freeshareinfo.com 5/5



diamonds are a girls best...







subfiles home > webcow
Functions in Detail
this is a selection of webcow features featured here to give all user a better overview and on how things work.
Topics avaible:
if you want to write an overview by yourself supporting this freeware, fell free to mail.
top | subfiles home > webcow