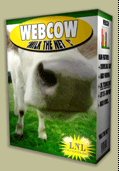 nonags rated webcow 5 (of 6) in it's first public beta!




webcow is a shellcity favorite. check the other favorites out there.




webcow on webattack. 4 (of 5) means very good.








Un très bon logiciel !
freeshareinfo.com 5/5



diamonds are a girls best...







subfiles home > webcow

Version 0.53.x available for download - freeware
Download | Firefox Extension | Revisions

Firefox Extension Updated
Firecow, the Webcow Firefox Extension has just been updated. It's now far more improved and useable. Install!

Version 0.53.39 is now out
Just Released! Bugfixes and one new feature: Multiselect.
New in .34: Webcow now re-routes to Priceslessware 2005 Winner Free Download Manager (FDM). Just discovered that cool Freeware worth to be supported and shoot this update right after the one yesterday. Fun-Fact: 2nd Winner in Category Download Manager is DLExpert, again a webcow Re-Route.
New in .32: Sort & Apply Filter Button



Firefox 1.0 just has been released and because this is now my "Lieblingsbrowser" as we in german say, the internet explorer integration development has been stopped and i'm now adding browser integration for Firefox. To tribute this really superb piece of browser i call it Firecow - Firefox Webcow Extension (more infos). Just download the Beta Firecow extension if you're interested. Otherwise learn all about Firefox, the browser everyone is talking about - visit GetFirefox.com

The cow just got awarded again!
Freetrialsoft gave the cow 5 stars and it is editors pick there. thanks for the flowers!

Version 0.53.27 is now out
Version 0.53.27 has just been released. WackGet 1.2.2 and Net Transport were added as Re-Routes. Both are available for free. In addition the file:// protocol handles .lnk files now.

Version 0.53.21 Changes
A brandnew feature available is the Download Directory Toolbar - enjoy.

For those who download (Images)
If you're running into managing problems with your (image) library, here are my tested recommendations:

ImgSearch
Freeware, small and simply running worker to find duplicates in your lib. It has been tested and certified by the Webcow Pre-Beta team.
IMatch
It's Shareware and simply said: Worth the 50 bucks. Rock-Solid & fast, handles thousands of pictures in a SQL Database, Search & Compare by whatever (truly guys, including 'images matching my sketch') and a fun to use. The registered version comes with the latest features, the shareware version is a little behind. Did I mention it's network enabled? Again: tested and certified by the Webcow Pre-Beta team.
Totalcommander (Version 6.02 just out)
I think you know this Shareware tool already guys - the filemanager on win32/16. You won't miss the multirenamer while using webcow. Really worth the money and fully working in demo mode. Shurly tested and certified by the Webcow Pre-Beta team.

How to download - Tutorial
Dear Webcow users and the upcoming ones, I just found a site (and another, interesting download tool), both worth to tell everybody. The site is a large Tutorial about Downloading in general with lots of infos and pictures (Training Area).
There you'll find a link to a tool called Net Transport, too, which is endeed a very interesting download tool, I thought you'll just like it.

Ver 0.53.13 is NOW out.
What's new ?: The actual pre-beta phase has been closed and a new version is now public. The FilterCowPad has been completely redesigned. Checkout the features in the updated documentation.
As usual: Write down your own comments on the new user-comments-page.

Ver 0.52.74/83 is out.
Added a bunch of DLers for Re-Routing, File-Type filter and an Import of Intellitamper's Map Files, another Freeware Tool. Happy Leeching.


World Premier: Now with LNL Technology
Webcow is the world's first download manager which supports LNL Technology by Hans Krentel. And we are sure others will adopt ;-).
read more about LNL Technology

Version 0.52.64 includes integration of other download managers. World's popular DAP and the super small gpl'ed Wackget are first, others will follow. Just request. Freeware tools will be integrated first.
Thanks to Paul for the nice Boxes around here and the new webcow logo ! What is Webcow ?

Webcow is a Win9x/NT/2k Freeware Internet Surf & Download Tool. It extracts all links (images,musik,video) of a website and builds a list of it. Now you've got Filters to remove unwanted files and Webcow then downloads all selected files into the folder of your wish. Features included:

Get all linked files from a webpage - Best for directory-listings
Supports HTTP, HTTPs, Password protected Sites and FTP.
Filters - Get only the Files you really want to have
Filename Generator - Grab sequentially numbered files (for example, pic001.jpg, pic002.jpg, pic003.jpg ... and so on ...).
Download Options - Set File-Type and Size required.
Simulates Browser - Handles Redirects, Cookies and Referrer.
IE Integration - Completely takes over Internet Explorer Cookies and Settings.
LNL Technology - This World Premier by Hans Krentel makes downloading much more easier.
Url manipulating options with Filters
Parsing Options and Tweaks
Build large Lists via Clipboard with Copy & appended Pasting of complete Lists.
Compatible with many other Download managers - Just use the nice Re-Routes, Clipboard or exported files.
Small in size, fast startup and on-the-fly use. Tricky combos will lead to ultimate Poweruse.
No Install/ Uninstall needed. Just delete - own ini, no regestry keys.
Small but usefull integrated Scanner
Different Savefile-Naming options
Favorite Folders
Freeware
FilterCowPad: I can now Search and Replace
Ver 0.52.60 is NOW out. Find, Cut and Replace. The brand new Find and Replace Filter is a Helper for the tricky user.

Import/Export Complete
Ver 0.52.59 is NOW out. Featuring the very last of Import/Export HTML, Clipboard Importing with a new Parse Option of http://-styled links in any Text now !

"They fed my ego"
Shell Extension City, a well known guide into the freeware jungle with tools, tips and tecs, rated webcow as their favorite. Cool. Hope you too ;-)

New Homepage Design
After moving to subfiles, i now changed my site design. Hope you like it. The content will be reordered soon to pay for the growth of information.

Even more Online Help
Let me introduce the Functions in Detail. This combined with the Tutorial will maybe answer all your questions. Otherwise just send in questions and suggestions via Email.

The Drop-me-into-Shell-0.52.56-Version is out
Fixes IE contextmenu bug on many systems and introduces the favorites download directory system. hope it's allright for 2 more k.

Version 0.52.0 out
Some people were asking about features and now, after a complete redesign of the net-engine, these features will come up one by one. This brand new release comes with a bunch of download options like filesize and content-type. Check the improvements out and send feedback.


top | subfiles home > webcow